New Arrivals: Our Latest Synergee Gear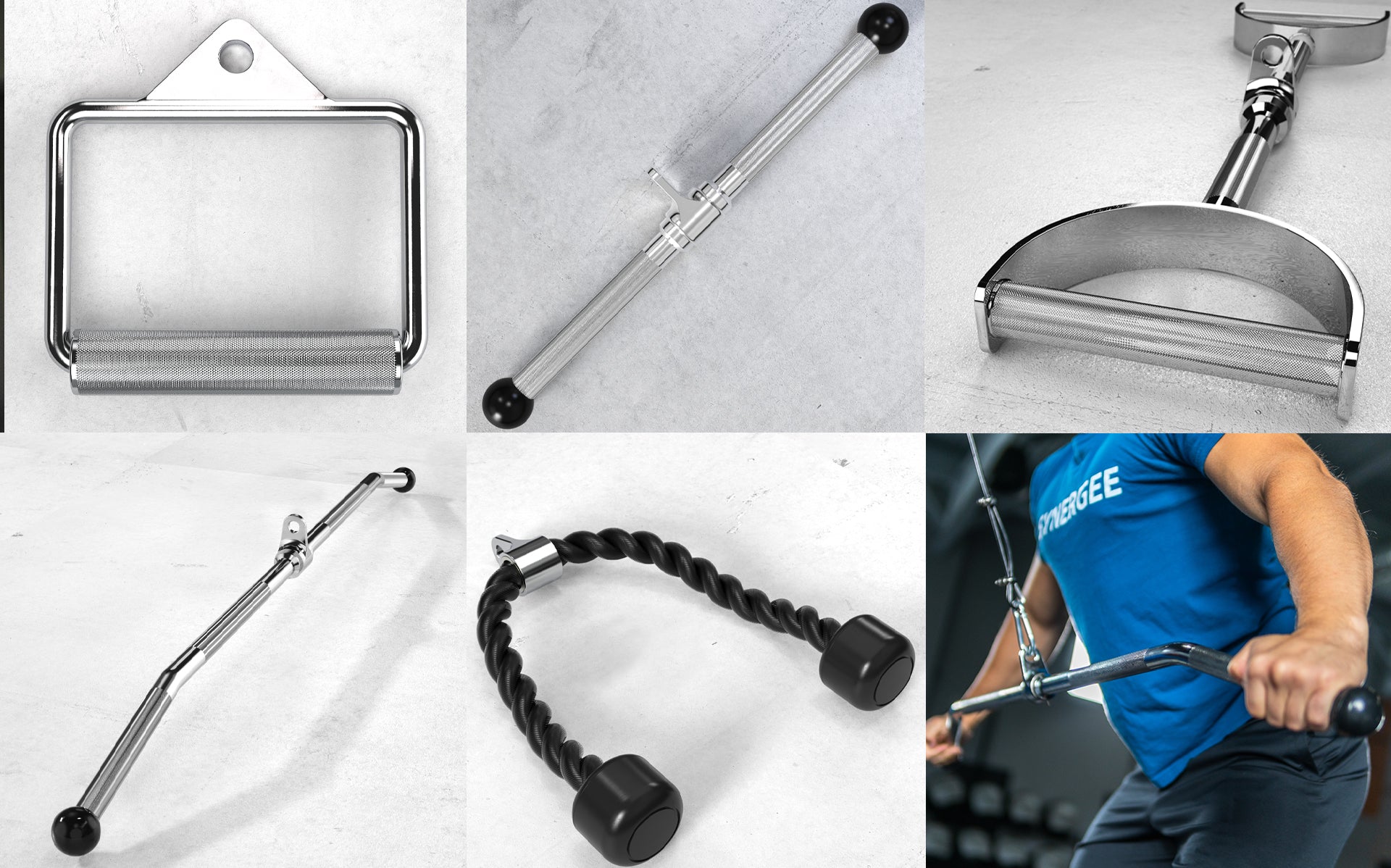 At Synergee, we are constantly looking for new gear we can bring into our store that will help you achieve your goals. A few months go by, we release some gear, but then we realize we have not made a proper introductions!

So today we'll introduce you to the latest gear we have designed and prepared for YOU, our very valued Synergee Athlete!

Today, we'll introduce you to our Cable Machine Attachments, Cast Iron Weight Plates, and Yoga Chair.

We'll go over what each item can be used for and what features we included in our Synergee designs. If you have any additional questions I encourage you to check out the product listings; and if you still have questions, reach out to us at customercare@iheartsynergee.com!

Ok, let's check out this cool new gear!!!!
CABLE MACHINE ATTACHMENTS
A Cable Machine can be the best piece of equipment you bring into your home gym, but only if the right attachments come with it. And boy oh boy, have we got the right cable components!

We have a range of attachments: D Handles, Straight Bars, Tricep Ropes, Lat Bars, and Pro-Style Lat Bars.

All of our handles include a Universal Attachment point that is compatible with cable machines that feature a carabiner attachment. Clip it on and have at 'er.

The D Handles come in 2 styles: the Single and Double D Handles.

The Single Handle Attachment is perfect for unilateral movements. Fix muscular imbalances and attack weaknesses, one arm at a time. The Double Handle Attachment, also known as the T-Bar Row Handle, allows for both hands to grip in parallel, neutral positions to work your back, bis, tris, and more. Both styles of handles are fitting with swiveling parts for smooth reps.

Next, the Straight Bar.

We offer this attachment in 3 different lengths: 12", 14", and 20". Each of these pieces is perfect for pulling and pushing exercises that work your triceps, biceps, lats, core, and more. With 1.2 mm knurl and a swivel shackle, grip onto this handle and enjoy the smooth movement as you go through those reps like butter.

We've also introduced the Tricep Rope; and similar to the D Handle, we offer it in Single and Double Handle Options.

Our Tricep Rope is constructed with a strong Nylon rope, fitted with rubber stoppers to aid with grip. The Single Ended Rope is 13.3" in length and 1" thick; and the Dual Ended Rope is 24.2" long and 1" thick. This piece is the most popular attachment for cable machines. We made it as durable as possible so it can hold up rep after rep.

Last in our Cable Machine Attachment line up are our Lat Bars.

We've got our Pro-Style, which feature knurled handles on either end, as well as knurling on the bar. They come in 3 sizes: 24-inches, 34-inches, and 38-inches. Each size offers workout options that will target different back, arm, and shoulder muscles; and each bar is constructed with solid steel, finished with chrome, and fitted with a smooth-moving swivel.

Not looking for handles? No problem! We've got a 48-Inch Lat Bar too!

The Lat Bar is slightly angled to provide narrow and wide grip options. The center bar has 8" of knurl on either side of the attachment point for your narrow grip movements. And there is 7" of knurl at either end of the lat bar for wider grips. To top it off, there are rubber caps at the ends to help you hold on 'til your set is done!


CAST IRON WEIGHT PLATES
Our Synergee Cast Iron Plates are a high quality, economical option for anyone looking to bring more weight into their gym! As implied by the name, they are made from Cast Iron. They do not bounce like our Bumper plates do… but they DO provide a hefty, sweat-inducing workout! And that's what's important, right??

All our Cast Iron Weight Plates are sold in singles. With a 2" opening, they can be loaded onto any standard barbell. Their thin profile is ideal for spatial efficiency, whether they're on the bar or being stored. Three handles around the circumference of plate provide reliable grip for less drops (i.e. less damage to your plates, floor, and toes! Phew!).

But, more than that, they provide awesome grips for bar-less workouts! Rows, halos, waiter holds, curls… you can get a lot done with these weights on their own!
YOGA CHAIR
The Synergee Yoga Chair offers a safe, comfortable spot for your yoga practice.

This chair allows anyone to participate in a yoga routine, regardless of mobility limitations! Whether you are a beginner who needs some extra support, someone who has trouble standing or lacks the mobility to move from seated to supine positions, this chair has got what you need!

The chair can be used for movements that span levels of difficulty. It is perfect for practicing inversions and headstands; but it can also be used for modified yoga practices like chair yoga! Either way, it provides comfort and a sense of grounding throughout your practice.

The Synergee Yoga Chair comes with two 2-inch pads attached to a wooden base: a U shaped and T shaped pad. The PVC Leather-Lined Pads are perfect for providing safe and comfortable support throughout your yoga practice. Lean, sit, or invert your body using the bench, and watch your flexibility, strength, and confidence grow!