The 5 Best Home Gym Setups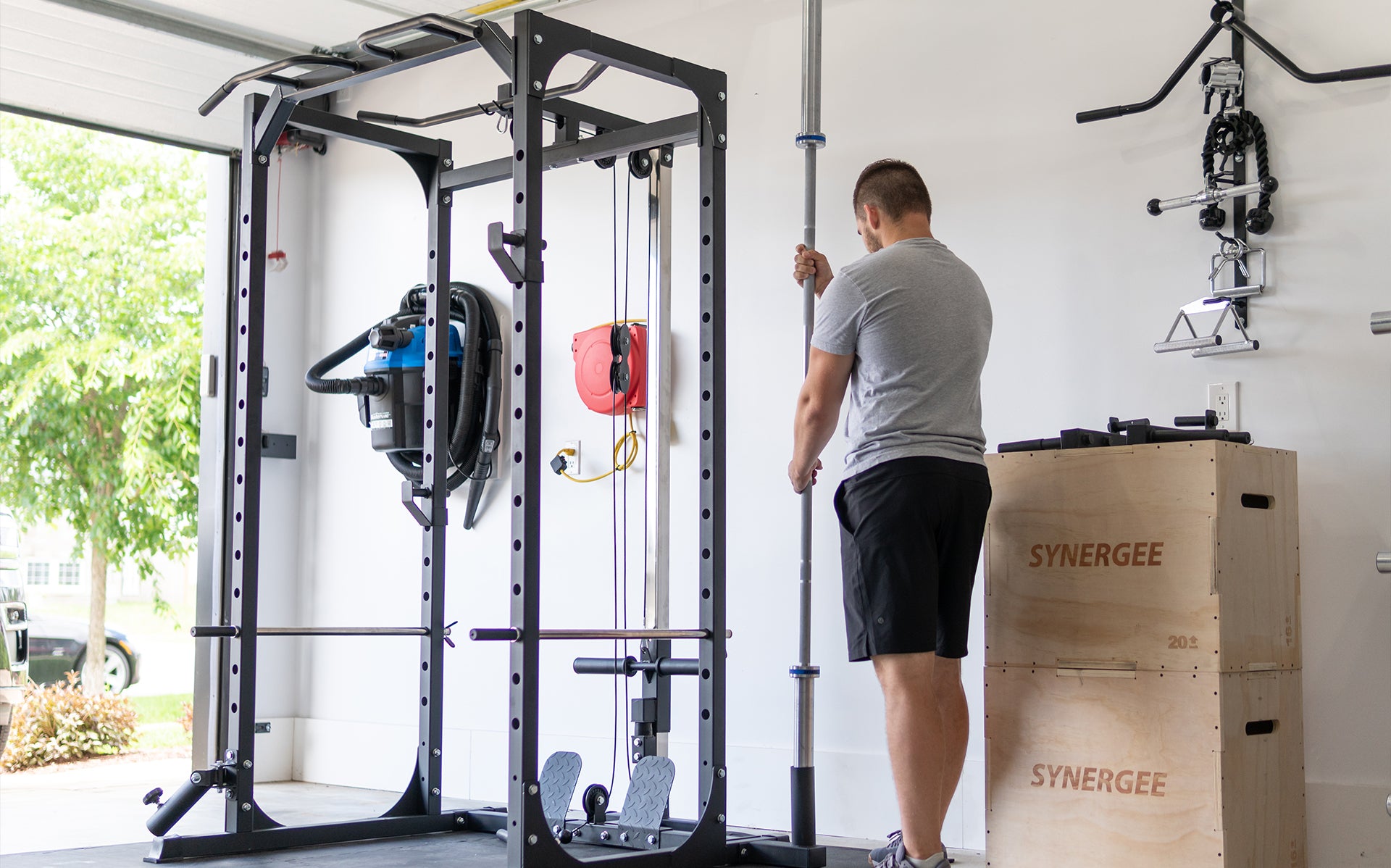 "Ready to work out?" For many, that question really means, "Ready to go to the gym?"
Chances are, you've probably skipped a workout or two because the idea of going to the gym made you groan. Very little time spent at the gym is actually spent working out. Driving to the gym, changing clothes, showering, commuting back — that's a lot of time to commit. It's easy to talk yourself out of it.
But if you have a home gym, all those concerns go out the window. You don't have to drive anywhere. The majority of the time, you're actually working out. Best of all, you can fill up a home gym with exactly what you need to help you reach your fitness goals. You can build a gym that you want to go to regularly — without the commute!
At Synergee, we're big fans of home gyms. We're committed to bringing you the high-quality, affordable gym equipment to help you build the home gym you need without breaking the bank. Here's our take on the best gym setups for those looking to work out at home.
What to Consider Before Building a Home Gym Space
The main thing to consider when building a home gym is space. We talk a lot about garage gyms. They're a great example of how the shape and size of your layout really does affect what you can have in your gym.
Before you start setting up a gym of any kind, measure the space and assess where and how noise might be a problem (for neighbors and napping kids alike). You don't always need to modify a space, especially if you have minimal equipment. Think in terms of square feet and how much space each activity will require.
For example, weightlifting doesn't require much space (between six to eight square feet). But cardio and circuit training will require room for movement and transitioning between activities. Make sure you measure your home gym space and account for the dimensions of any equipment before you buy it. You'll need to make sure you can maneuver and properly store your equipment. If you're working out in a garage, make sure there's room for opening car doors and stepping out. If you're using a designated room inside a home, make sure there's room for the closet to open and enough room for you and your gear to move around comfortably.
If you're planning to lift in your home gym, evaluate the floor and if it can stand up to holding heavy weights (especially if dropped). Our foam and rubber flooring is an inexpensive addition that will prepare your home gym floors (and your body) for some serious impact. Take ventilation into account also when designing your home gym. You want to be able to breathe while working out, after all. Consider if you want mirrors, fans, or other additions to improve the space.
Here's what you need to consider for each kind of space:
Single Room Home Gym
This is the ideal setup for a gym. It's good if you can mark off a space that you and the people of your home can use only for working out. If it has a closing door and isn't on the second floor, even better.
If you're working out in a multipurpose room in your house (like a living room, playroom, or office), you'll likely benefit from using folding equipment or tools that are specifically designed to save space. It's not just about storage — you need to be able to protect your equipment from visitors knocking into it or kids throwing toys around.
Apartment Home Gym
If you're living in an apartment and looking to set up an at-home gym, your top concerns are going to be space and noise. You don't want your workout to disturb your neighbors and potentially threaten your lease. You also don't want to cause any damage to a space you don't own and be held liable.
Space is a concern for apartment gyms because apartments tend to have low ceilings, narrow hallways, and walls that are really easy to punch through. Prioritize storage and give your equipment plenty of room, and you won't be sorry.
Basement Gym
Your main concern with a basement gym will be low ceilings. That means you might not need the tallest cage. But you may also be limited by the exact amount of space available to you. It's key to know exactly how much space you have to work with before purchasing equipment — you don't want to order something only for it to be too big for your space.
Garage Gym/Half Garage Gym
This is one of our favorite spaces for a home gym. You have strong flooring, protection against sound, and (usually) total privacy. Even if you're sharing half of the gym with a car, you're still set up for success. Just watch your space so that you're not ramming your barbell through your driver's side window.
But the type of space isn't the only thing to take into account when building up your home gym.
Consider Your Budget
You don't want to break the bank to get the equipment you need. But more than that, you don't want to invest in gear that falls apart immediately. You might think you're saving money by buying gear made from suboptimal materials. But you're just going to have to spend money again when you need to replace it in two months.
Another thing to consider is how long your gear will keep pace with your fitness goals. It's important to avoid a situation where you buy an expensive piece of equipment that you no longer have any use for in six months because you decided to focus more on lifting than cardio. Your gym has to keep up with you. Think of what you'll be interested in doing to work out for years and invest accordingly.
Consider Your Fitness Goals
Your home gym should be designed to help you reach your fitness goals — and grow with you as those goals become more challenging. Plan out your equipment and layout so that you can work to achieve your workout goals, but still keep using your home gym even when you get there.
You also have to make sure you have enough to do in your home gym when there isn't time for your full routine. This means you also have to think about cardio, bands, and equipment for when you're just looking to get moving between your work shifts. It's your gym — use it for what you need, on your schedule.
We've divided up our top 5 gym recommendations by fitness goals and our top picks for equipment in each category. Let's look at how each one is set up:
1. Best Home Gym Setup for Small Spaces
If you're short on space, free weights will be your best pick for efficiency. However, you can still do squats or overhead presses with the right equipment. A foldable squat rack is your best bet as a space-conscious rack solution, especially if you're really short on room. The Synergee Folding squat rack is useful if you need to switch the room from a gym to a different kind of space in the course of a day. The rack simply folds flush against a wall when not in use.
Bars and Plates + Storage
Our open barbell features 150K psi tensile strength and four needle bearings (two per sleeve) so you can get the spin you need. This popular barbell is perfect for all kinds of lifts, including powerlifting and Olympic lifts. The max load is 1000 lbs., allowing for stacking up to super high goals. Our package includes lifting straps for safe use.
Storage is a key factor when it comes to setting up a space-efficient home gym. Our vertical barbell rack features a slotted design that allows you to keep your barbells off the floor and save serious space. Our plate storage pegs are 8.8 inches long, hold up to 275 lbs. each, and are built at a slight angle to prevent plates sliding off (the rubber stopper at the end also helps with that). The right plate setup allows you to work toward your goals consistently while not taking up a lot of space. We recommend a 25 lb pair and a 45 lb pair for this package. Beyond that, the Weight Plate Wall Storage Rack has an elegant design that will work great in small spaces.
Free Weights
We recommend the 5-40 lb Rubber Hex Dumbbells set (with the included small rack) for keeping your workout consistent without taking up the entire room. These tough dumbbells are made from steel and coated with rubber for longevity, so you'll be able to really get into it.
Other Equipment
Broaden your workout options with Resistance Power Bands and Mini Bands. These inexpensive add-ons are designed to assist with your chin-up goals or help you work on your overhead tricep extensions. Otherwise, you can use them to get a good ol' fashioned resistance burn. Core Sliders act as bracing tools to help athletes engage their core while performing different exercises, opening up possibilities for even more workouts within the same space.
Before you check out, don't forget a set of aluminum barbell collars to keep your plates secure on the bar.
2. Best Home Gym Setup for Olympic Weightlifting
It's not difficult to set up an Olympic-worthy gym in your home. Focus on the essentials, which should include a rack, barbells, plates, and dumbbells. Beyond that, add on accessories and additional equipment as you need it.
Bars and Plates
For a home gym based around Olympic weightlifting, the Synergee Power Rack with Pulley System will be a well-rounded foundation piece for several exercises. The Regional Barbell, our best-selling barbell with a 1500 lbs. capacity and 10 needle bearings, is an ideal pick for lifters who want a straightforward bar that can stand up to everything they want to do. Alternatively, the Games Barbell is our toughest barbell, and is an excellent choice for Olympic weightlifters in particular. A diamond knurl and ten sets of ball bearings make this a highly responsive bar perfect for lifters looking to make progress in their home gyms.
Regarding plates, the 260 lb set of bumper plates should give you all you need to do several lifting workouts. Our bumper plates don't bounce very high, so you can easily drop weight without worrying if it will bounce all over your home gym. A full set of this type can help you stay in peak condition and add variety to your routine.
Of course, you'll also need barbell collars to keep your plates secure. Our aluminum barbell collars are both light and strong.
Free Weights
For free weights, we recommend the 5-50 lb. Rubber Hex Dumbbell set (with a large rack included). For fans of kettlebells, we recommend the 16kg and 24kg pieces from our cast iron kettlebell lineup. Crossfit athletes should recognize those amounts as the standard for competition.
The Olympic Weight Plate and Barbell Holder will assist with storing your other equipment and keeping the floor manageable. This holder features six pegs and two barbell holders, which can store up to a total of 850 lbs. The pegs are coated with chrome to provide seamless loading and unloading. The total footprint of this setup is 24" by 24", perfect for a home gym where space is limited.
If you're interested in adding on features to assist with strength training, Synergee's Adjustable Dip Station is an excellent addition. It adjusts from a height of 30" up to 39", perfect for inverted pull ups, L sits, and of course dips. It can easily be tucked away for storage if you decide not to incorporate it into your workout that day.
Other Equipment
Resistance Power Bands are a top pick for gyms designed for Olympic weightlifting, due to their pure versatility. These and our Mini Bands are designed to stay in place and assist with muscle toning, flexibility, rehabilitation, and much more. They're extremely space efficient and can be adaptable to your needs.
If you're interested in adding on features to assist with strength training, the Adjustable Dip Station is an excellent addition. It adjusts from a height of 30" up to 39", perfect for inverted pull ups, L sits, and of course dips. It can easily be tucked away for storage if you decide not to incorporate it into your workout that day. A deadlift jack will also enable you to load and unload your barbell with ease if you want to lift in the middle of the floor instead of the cage.
To keep things fresh, Core Sliders allow athletes to engage their core while performing different exercises. Use them to stabilize your feet or brace your hands during a bodyweight exercise. We recommend these helpful tools for taking your workout to the next level.
3. Best Home Gym Setup for Bodybuilding
This gym setup focuses on the power rack and everything that helps you use it to its full potential. Here are our recommendations for building up your strength exactly the way you want:
Bars and Plates
Our Power Rack with Pulley System is ideal for athletes looking to work on their goals in a home gym setting. You can set up a squat rack and bench arrangement for even more lift options (and to allow you to do bench presses). The Rhino Powerlifting Bar is designed with bodybuilding and powerlifting in mind, with strong construction and powerlifting marks on the bar itself. This hefty bar is built to withstand up to 1500 lbs. and includes volcano knurling to allow for an extra-secure grip. You'll also want a pair of our aluminum barbell collars, designed with a lock and release mechanism (much easier for loading and unloading of plates than the traditional spring collars).
We recommend the 260 lb. set (at least) of our Standard Metal Plates for working toward your goals. Metal plates may be better than bumper plates for this setup, because they are built thinner and can be stacked to add more weight. Rubberized Fractional & Change Plates can help you to work to increase your personal record by progressively overloading every workout.
Free Weights
When it comes to free weights, our top pick is the 5-50 lb. Rubber Hex Dumbbell set with a large rack. The vast variety of weights in this collection will allow you to change things up with ease. Chrome handles and rubber coated endings mean that these dumbbells will stand up to anything you put them through. The sizable rack will keep things organized while allowing you to pick up and set things down as you wish between your sets. It features three tiers of adjustable shelving that can be adjusted for different sizes of barbell (and that's a feature no matter which size of rack you pick).
An Olympic Weight Plate & Barbell Holder will help keep everything manageable yet easy to access. This impressive holder has six pegs which can hold two barbells and up to 850 lbs. of plates. Cast iron kettlebells in amounts of 16kg and 24kg round out the setup if you want to switch up your routine. Kettlebells are helpful for conditioning due to their askew center of gravity. Add these to your setup if you have the space and you want to make sure you're toning all over. Kettlebells can work muscles that almost no other equipment can. Depending on how many kettlebells you wish to keep in your home gym, you may want a kettlebell rack to help keep everything orderly.
Other Equipment
Even if your goal is to reach a certain weight or a particular aesthetic, you need more than a bar and a cage in your home gym. Use core sliders for stability while lifting or during exercises that target a particular group of muscles. They're also incredible for engaging your abs.
Resistance Power Bands and Mini Bands will help with developing flexibility, injury rehabilitation, and more. We recommend them for every home gym to assist with exercise and stretches alike. These wide, stable bands can help you target specific muscles. Professionals swear by bands for a well-rounded workout, and so do we.
The Adjustable Dip Station will help you incorporate body weight exercises into your workout with ease. It adjusts from a height of 30" up to 39" with a simple turn of the screw, and is easily transported across a gym or in a car. It's made from steel with a strong base for stability, plus a rubber hand grip so you can really go all out.
4. Best Home Gym Setup for Weightlifting and Cardio
Ready for a classic gym experience? This is an ideal setup for a household that features both lifters and non-lifters, or for people with various fitness goals using the same gym space.
Bars and Plates + Storage
The Synergee Power Rack with Pulley System is an excellent choice for athletes who want to attack diverse goals in the course of their workout. It includes several weightlifting features for a near-complete home gym package in a single product — all in just under 16 square feet (44.5" by 51") of space. We recommend the Essential Barbell for your lifting goals, and the Rhino Powerlifting Barbell is an intuitive add-on. The 260 pound bumper plate set is the perfect user-friendly set of weight plates for heavy lifters and beginners alike. Use a pair of our aluminum barbell collars with a rubberized inner lining to keep your plates secure on whatever bar you use.
For storage, we highly recommend using our Olympic Weight Plate & Barbell holder, which allows you to store two barbells vertically, plus three tiers of plates on either side — all in just 4 square feet of space.
Cardio Equipment
If you're thinking of adding a cardio element to your workout, you might think it's enough to just run or jump rope in place. While these are both valid options, you need to do more to get the full benefits of cardio workouts in your home gym. But if you want all the potential benefits of cardio workouts (and an option that you can use indoors even if it's raining outside), we recommend investing in a couple machines. The Assault treadmill or Peloton Bike often provide the best value for cardio machines and the best use of the space.
For bodyweight cardio exercises, plyometric boxes are a great addition to this setup. With these you can do several workouts like variations on burpees, squat variations, and of course box jumps. Synergee offers several options for plyo boxes, depending on your fitness goals.
Free Weights
With this setup, we recommend the 5-50 lb. dumbbell set (with the rack) for a well-rounded free weight workout. Whichever form of weights you decide to use, remember to equip your gym for your future goals just as much as your present. When you finally hit your lifting goal, you'll want to move up without dropping a bunch of money. Pick an adaptable set of weights that can grow along with you.
Other Equipment
When it comes to setting up a versatile gym, you absolutely need Resistance Power Bands and Mini Bands. These helpful gym accessories are designed for exercises like bicep curls, chest flies, assisted pull-ups, and many more. They come in different levels of resistance, so feel free to scale up! We recommend Core Sliders as key components of a home gym as well, to help you with strength conditioning, muscle building, and even rehabilitation.
5. Best Home Gym Setup for Cardio and Crossfit
If your fitness goals involve marathon conditioning or circuit training, this is the home gym setup we recommend for you.
Cardio workouts require you to get your heart pumping, whether that's by running on a treadmill or doing a few sets with a jump rope. You don't need a lot of equipment to make that happen. Focus on equipment based around lifting, then prioritize cardio-focused equipment. If space is tight, cardio workouts can be done with bodyweight exercises and minimal equipment.
Bars and Plates + Storage
The Power Rack with Pulley System is the best choice if you're building strength to go after cardio goals. The Adjustable Incline/Decline Bench is an excellent addition for anyone looking to do bench presses or vary up their seated curl workouts. This bench has 27 total position combinations for ultimate versatility.
When it comes to weights, you will likely only need one barbell for this setup. We recommend the Regional barbell and the 260 lbs. bumper plate set. Of course don't forget your barbell collars either. The Regional barbell provides a solid grip and excellent spin thanks to its needle bearings. Our 260 lbs. set is one of our top recommendations for a reason — these high-quality plates are sturdy, tough, and well-balanced (plus they bounce!). These two combined are the dynamic duo of everyday lifting.
For storage, we recommend our Vertical Barbell Holder and Weight Plate Storage Pegs. These will keep equipment off the ground and out of the way. They also allow you to customize how you store them by mounting them to the wall in any place you choose.
Free Weights
In terms of free weights, the 2.5 to 25 lb dumbbell set (with a rack) is the best option for cardio athletes that want to add in weights as it suits them.
Kettlebells are a staple for Crossfit workouts because they can work a ton of muscles all at once — even ones that are hard to work with other equipment. Our cast iron kettlebells come in several weight options, including 16kg, 24kg, and 32kg.
Cardio + Other Equipment
Cardio equipment definitely has a place in the home gym, and we at Synergee have taken time to find the top picks for home gym fans.
If you're looking to save money, a plyometric box can help you do lunges, squats, box jumps, and various other exercises, as long as you have the space to move around. But if you're able to invest in a cardio machine, we recommend the Assault AirBike Classic, AssaultRunner Pro treadmill and the Concept2 Model D Indoor Rowing Machine with PM5 Performance Monitor as great options to choose from.
But outside the main workout, you need accessories to buffer your workouts and make them go further. Resistance Power Bands and Mini Bands will open up options for stretches, bodyweight exercises, and more. They're essential if you want to make sure you're motivated to use your home gym every day. They also help with rehabilitation. Core Sliders will ensure that you'll be able to keep your balance even as you build up your strength. They may just be the bracing tools you need to try out that new circuit with confidence.
Final Thoughts
More than any equipment you might buy for your home gym, what matters most is setting up a space where you want to work out. It has to be a space that inspires you, where you can effectively make and track your progress.
Don't overwhelm yourself — make sure that everything in your home gym is something you want to use and will hold up to your routine and goals. We recommend the 260 lb. plate set every time because we encourage athletes to think about how to achieve their goals as they evolve for many years to come. We want to help you put together a home gym you'll use forever.
Good gear that lasts for years is worth the investment. At Synergee, that's what we work to bring to you — the best gear possible at the lowest price. We're all athletes with families. We know the struggle of trying to fit a workout into a busy routine. A well-curated home gym can make all the difference.
Browse our home gym equipment here, designed to save you space and money without compromising quality.