How to Build the Ultimate Half-Garage Home Gym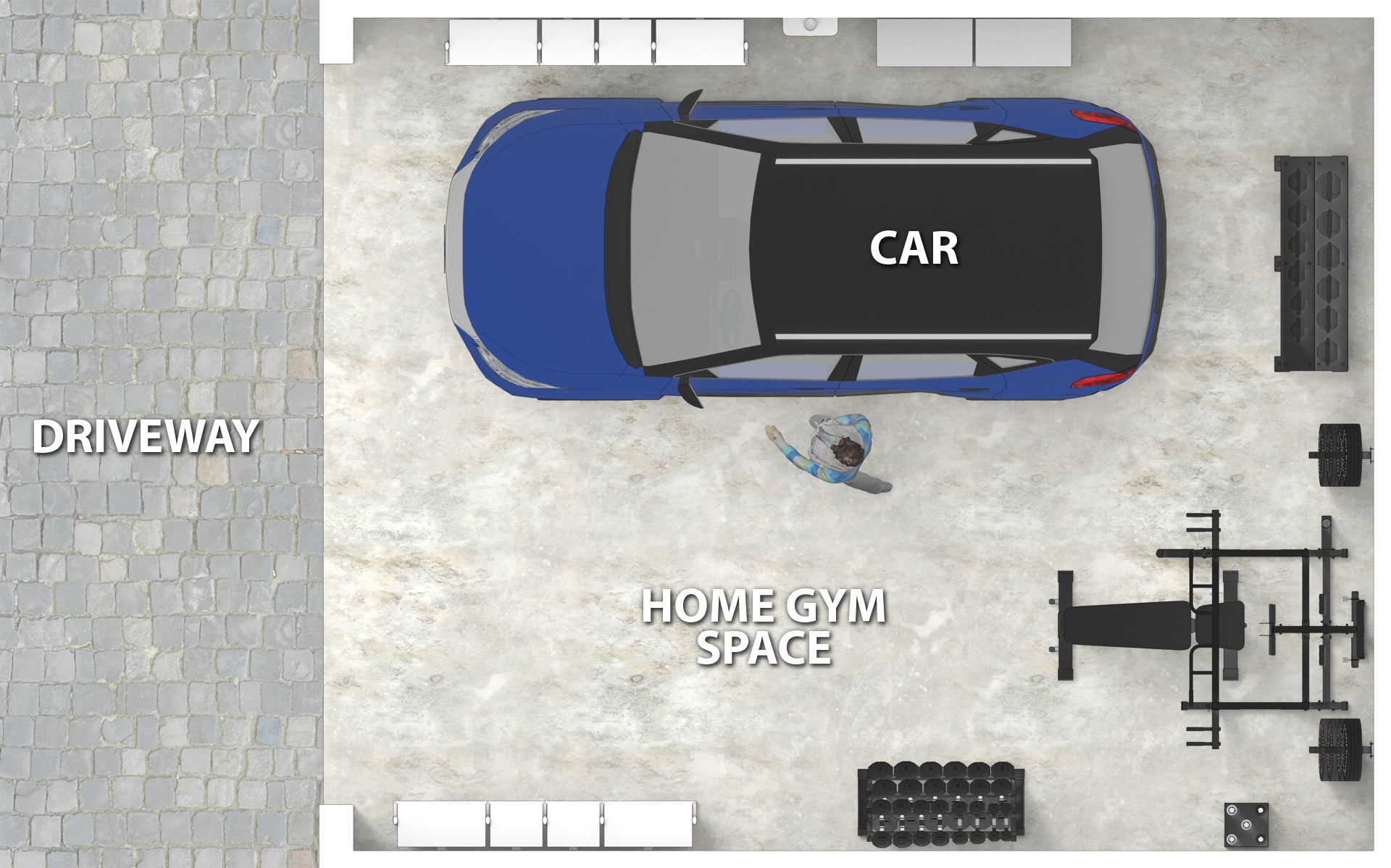 There are plenty of things you can do with extra space in your garage. For instance, if you have a two-car garage, you can transform it into a bedroom, an art studio, a workshop, or a cool hangout area. If you're into fitness, you might have looked at that space and thought, "That would be a great spot to work out."
Even if you have access to a local gym, you might not have time to make the commute during your busy day. Plus, chances are, everyone will be free to work out at the same time and you'll be stuck in a crowded gym waiting to use the equipment.
Instead, why not have your own gym in your garage? It's a lot better than letting it fill up with clutter. Half of a two-car garage is plenty of space to customize your home gym to meet your fitness goals. Within that, there are several different workout setups you can achieve with the right space considerations. Let's take a look at how you can set up the ultimate half-garage home gym for different exercise goals.
Initial Setup for a Half-Garage Home Gym
Before you start buying a bunch of fitness equipment, you'll want to get a feel for the layout of your half-garage and make some adjustments to the space. While you could just lift weights in an unmodified garage, there are a few extra steps you'll want to take to turn your garage into the ideal workout space.
Measure Your Gym Space
Before you start setting up, measure the space you have to work with. The average garage is 22 feet long x 22 feet wide. This means that you'll likely have a space of about 22 feet x 11 feet for your home gym. However, you also don't want to put equipment too close to your car. You want to leave at least a foot of space between your car and your equipment so you can easily park and enter your car. You risk scratching your car's paint if you drop some weights or other equipment on it.
You'll also want to allow for ample room to move around. You don't want to be lifting weights or doing box jumps in a 2 foot x 2 foot space. Roughly 6-8 square feet should be enough for weightlifting, but other exercises may require up to 11 square feet of free space (5.5 feet x 5.5 feet). Of course, this will also depend on how you organize your home gym once you get your equipment together.
Install Gym Flooring
You can certainly work out on bare concrete if you choose. But it probably won't be comfortable for your feet or hands when doing burpees, situps, pushups, or other body weight exercises. You'll want to lay down foam or rubber matting to protect both your equipment and your body from impact.
Luckily, high-quality foam and rubber matting from Synergee isn't very expensive. For your half-garage home gym, you'll likely need about 235 to 240 square feet of foam and rubber flooring.
Install Mirrors
Mirrors are common in commercial gyms for several reasons. In a way, they make the space feel larger. But more importantly, they allow you to watch your own form and technique for different exercises. As you continue to work out, you'll want to look at how your muscles develop, which can boost your motivation to push harder and stay consistent with your workout routine.
Create Ventilation
During the summer, you can simply open your garage door and work out in the fresh air. But if you live in a really hot climate or you prefer to exercise in private, you may want to leave it closed. In the winter, it will likely be too cold to work out with the door open.
You want your half-garage home gym to be a private space you can use any time of year without being too hot or cold. You'll be working up a sweat and breathing hard, and you don't want to inhale the chemicals and fumes that may be present in your garage from vehicles or yard equipment.
To make your workout space more comfortable and safe to breathe in, take care to install vents, fans, and even heaters if you choose. Adequate ventilation means having a continuous cycle of fresh air (regularly exchanging old air for new air). You can do this by installing an exhaust fan to pull stale air out of the space. You may also install a ceiling fan or point a pedestal fan in the direction you want your air to flow. This should help to both cool you off and make sure your air is fresh.
During the winter, you may want to invest in an electric space heater. Just make sure the exhaust fan is still pulling air outside to avoid filling the space up with excess heat or fumes.
In some cases, a through-the-wall heating/cooling system like a PTAC (Packaged Terminal Air Conditioner) or mini-split air conditioner may take care of all your needs.
Design with Your Fitness Goals in Mind
Once you have the space measured out and prepared, it's time to decide what your fitness goals are. What exercises do you like to do? What do you want to optimize for within your routines? You may want to prioritize building muscle, increasing agility or speed, losing weight, or simply getting your heart pumping a few hours a day.
Whatever your goals are, you want to be specific about the purpose of your home gym. This will determine what type of equipment you include in your setup so you can do all of the exercises that are important to you. The more versatile the arrangement, the better.
Let's look at four different setups that maximize your workout potential in different areas:

The Ultimate Weightlifting Setup
The goal of the ultimate weightlifting setup is to maximize your ability to build several different muscles in a limited space. What you may lack in free space with this setup, you will make up for in equipment that can be used for a wide variety of lifts.
Here is some equipment you might use in a weightlifting-focused setup:
Power Rack
Let's start with what is likely going to be the largest piece of equipment in this setup: the power rack. The Synergee Power Rack with Pulley System enables you to do bench presses, squats, overhead presses, and much more. With the pulldown attachment, you can use the same weights used for presses to work your back as well. There's also a built-in dip station, a barbell holder, plate storage, and adjustable J cups which you can move wherever you want. These will be the foundation for a lot of the weightlifting you'll do in this setup. You'll also want to install a mirror behind the power cage so you can watch your form.
Adjustable Bench
Underneath the power rack, you'll also want to put an adjustable bench. In this case, there's no need for a bench with an attached barbell rack, since the power cage will hold it for you. The Synergee Adjustable Incline/Decline Bench allows you to do several different bench press and free weight exercises. Because it's free-standing, you can easily move it to another side of the gym or work out in front of the other mirror.
Bars and Plates
For the ultimate weightlifting setup, you might want several different barbells and some weight plates.
Synergee offers a wide variety of bars to choose from, depending on your needs. Out of all the bars we offer, the Synergee Rhino Powerlifting Barbell is essential for the serious weightlifter. This steel bar is able to withstand extremely heavy weights (up to 1500 pounds) with volcano knurling and a set of powerlifting marks. Aside from that, you'll likely want to check out the Synergee Games Barbell (designed for Olympic lifting and multidisciplinary training). But you can never go wrong with the Synergee Essential Barbell, the most cost-effective way to introduce powerlifting in your home gym.
There are several different plates you could also use in this setup. If you want to fit a lot of weight on your barbell, you will most likely want metal plates and maybe even some fractional plates to gradually increase your max weight. However, deadlifters may want bumper plates that can safely drop if necessary.
For the ideal setup, you'll want to install plate storage on either side of your power cage. With two Synergee Weight Plate Wall Storage Racks, you can easily keep your plates accessible on either side and tucked against the wall to preserve space.
If you have multiple bars, you may use the Synergee 5 bar holder (which only takes up about 1 square foot of floor space) to store your bars vertically.
Free Weights and Storage
It wouldn't be the ultimate weightlifting setup if you didn't include some free weights. For the most versatility, we recommend using both a set of dumbbells and a few kettlebells.
For the most variety, we recommend Synergee's Rubber Hex Dumbbells. These come in pairs in a variety of weight options, and a few sets featuring a range of weights. To store these, you'll want to use the 3 Tier Dumbell Rack. Made from heavy duty 8 gauge steel, this rack allows you to store about 10 sets of dumbbells (or up to 1000 lbs).
Kettlebells allow you to work your arms in a number of ways. Synergee offers several cast iron kettlebells ranging in increments from 4kg up to 160kg. For the most weightlifting potential, you'll want to get a variety of these. To store them, check out the Synergee Kettlebell Storage Rack, which offers two tiers of bench-style storage. You can store up to 1000 lbs on this rack, with enough space for about 12 different kettlebells of varying sizes.
For the optimal free weights setup, we recommend installing a long mirror, with dumbbell storage on one side and kettlebell storage on the other. This will allow you plenty of space to move around in and watch your form as you do curls, presses, or flies.

The Weightlifting + Cardio Setup
Sometimes, people in your household may have different fitness goals. One may want to build strength and muscle while another wants to improve their conditioning. The weightlifting and cardio setup allows you to accomplish both goals in the same home gym. This is great for families with several gym users or anyone looking to make a more comprehensive home gym setup.
The key here is to divide the room — keep weights, machines, and storage on one side and leave most of the other half open for free range of movement. Here's how we would set this up:
Power Rack + Bench Combo
Since weightlifting is a priority in this setup, you'll want to invest in a power rack. You can go for a standard power rack, or you can pick a versatile rack like the Synergee Power Rack with Pulley System to maximize your weightlifting potential. This rack allows you to do squats, overhead presses, lat pulldowns, and more.
Of course, you will also want to bench press with this setup. A bench press that works in harmony with the rest of your set, such as the Synergee Adjustable Incline/Decline Bench, is a must-have. You can store it underneath your power rack when using it, or you can move it off to the side when you're standing up or doing dips in the cage. For this setup, you'll also want a mirror behind the power cage to examine your form.
Bars, Plates, and Free Weights
For weightlifting, you're going to want a variety of barbells and plates. However, for the most flexibility between weightlifting and cardio, we recommend getting a combination of bumper plates and metal plates. Both Synergee's standard Metal Weight Plates and Bumper Plates are available in pairs with several weight options.
If you do a lot of powerlifting, Synergee's Rhino Powerlifting Barbell is a great choice. However, moderate weightlifters will do just fine with Synergee's Essential or Regional Barbell (our best selling barbell). Both of these are great for home gyms and weightlifters of any experience level.
To conserve space, the Synergee Olympic Weight Plate & Barbell Holder is a great storage option. This model allows you to store three tiers of plates (up to 850lbs) on either side and two bars (vertically) in just 2 square feet of space.
Beyond that, you'll want a few free weights for isolation exercises. Most of the time, dumbbells are your best bet. You'll likely want a variety of Rubber Hex Dumbbells for use with both weightlifting (curls, presses, rows) and cardio (lunges, squats, burpees). To save space in this setup, we recommend using the smaller version of Synergee's 3 Tier Dumbbell Rack, which allows you to store about 7 sets of dumbbells (up to 1000 lbs). We recommend setting this rack on the weightlifting side of your half garage home gym, right up against the mirror.
One Cardio Machine
With a setup designed for both weightlifting and cardio, you want to leave most of the second half of the space open for free weight exercises, box jumps, etc. Because of this, you won't have a ton of room left for cardio machines. We recommend picking one you like best and using it to divide the room. Just be sure to leave enough space on all sides to allow for movement between stations.
For example, you might pick either a bike or a treadmill. The NordicTrack Commercial 1750 Treadmill and the Schwinn IC4 Bike are both great options for home gyms. But be mindful of space constraints. Treadmills are typically longer than stationary bikes.
To divide the room and save space, you may put the bike or treadmill horizontally (parallel with the garage door) facing the mirror.
Plyo Boxes and Other Materials
On the other side of the treadmill, leave room for as much open space as possible. We recommend installing a longer mirror in this section so you can watch and maintain your form. In that space, you will want at least one plyometric box for box jumps, planks, lunges, etc. These workouts require a lot of room.
You can store all of these in a box or set of shelves of your choosing. We recommend putting this as far out of the way as possible, likely next to the dumbbell rack.

The CrossFit Setup
CrossFit is a high-intensity workout focused on strength and conditioning as well as cardio and mobility. It's great for beginners and experienced fitness enthusiasts alike who want to lose weight and/or get in better shape.
Because CrossFit uses a combination of free weight-focused exercises and body weight training, the key with this setup is to divide your half-garage for focus. You'll want to gather most of your weights to one side of the garage. The rest should be left mostly open to allow free range of movement.
Here's how you might set up your garage gym for this configuration:
Start with a Weight Bench and a Squat Rack
While you probably won't need a power rack for this setup, you'll still want to do a bit of weightlifting. A bench like the Synergee Adjustable Weight Bench with Barbell Rack should take care of your bench press needs. However, you don't want to skip leg day. Combining an adjustable folding bench with a squat rack can allow you to do squats, pull-ups, bench presses, overhead presses, and more. The Synergee Squat Rack with Pulley is versatile enough to allow for several workouts without too much monetary investment. It's also designed to be slightly shorter than most commercial squat racks, so you can easily fit it inside your home or garage with a lower ceiling.
Bars and Plates + Storage
You'll want to get some plates for your home gym, but you probably won't need as much equipment as a champion weightlifter. To save space, you can use the Synergee Olympic Weight Plate & Barbell Holder. This allows you to store two bars and three tiers of plates (up to 850 lbs) in just 2 square feet of space.
For most CrossFitters, the Synergee Essential Barbell is an ideal choice. Beyond that, the Synergee Technique Barbell is lighter than standard barbells to allow beginner lifters can practice their form without so much weight. You may also want to opt for a multi-grip barbell to widen your range of lifting grips with just one piece of equipment.
Most CrossFitters opt for bumper plates instead of metal plates. These allow you to drop your weights easily without harming your floor. When you need to change quickly from one exercise to another, you don't want to be afraid of dropping the weight and moving to another station. Synergee offers bumper plates for just that reason in several different weights and combinations, including single plates.
Free Weights
Free weights are essential for CrossFit. But since you want to optimize for more free space in this setup, you may want to choose between rubber hex dumbbells or cast iron kettlebells for this one. Both Synergee's 3 Tier Dumbell Rack and Kettlebell Storage Rack take up relatively the same amount of space. In some cases, you may choose one rack for several dumbbells and store a few kettlebells on the floor nearby or vice versa (depending on your workout goals).
Plyo Box(es)
It may seem simple, but plyometric boxes can help you do all sorts of different exercises. This is an essential piece of equipment for the CrossFit setup, in which you may want to do box jumps, step-ups, planks, dips, and squats at any given time. Synergee offers plain wood, non-slip, and soft plyo boxes in several sizes. Depending on your workout goals, you may want one or two boxes. Most of the time, you'll be using them in front of a long mirror in the middle of your open space. However, you can easily store and stack them on the edge of the room when you aren't using them.

The Cardio Setup
With cardio, the goal is to get your blood flowing. You'll need to optimize your half-garage home gym for a full range of movement and purchase equipment that allows for various exercises. The great thing about cardio is that you can do a lot of great exercises with just your body weight and a few simple pieces of equipment. Here's how we recommend setting up your half-garage home gym for cardio workouts.
Bars and Plates + Storage
While you don't need a ton of weights, it's always good to have barbells around. You'll just want to choose lower weight equipment — a few bumper plates and the Synergee Essential Barbell will work just fine for several different exercises, including lateral barbell burpees. If you like, you can add an EZ curl bar as well to make curling more comfortable.
For storage, you won't need much space. The Synergee Olympic Weight Plate & Barbell Holder allows you to store two bars and three tiers of plates (up to 850lbs) in 2 square feet of floor space.
Free Weights
For effective cardio, you'll want to add some free weights to the mix. Dumbbells work great for squat presses, rows, lunges, and burpees. You may also want weighted sandbags for squats, lunges, presses, carrying, and tossing in various exercises. Synergee's Weighted Sandbags (V1) are available up to 40 lbs or 100 lbs (with filler bags included to adjust the weight as necessary). For most cardio setups, you'll probably only need something weighing 40 lbs. You may also want some wrist and ankle weights to aid your body weight exercises. Synergee Adjustable Ankle/Wrist Weights are available in pairs with removable weights up to 5, 10, or 20 lbs.
For storage, you'll likely want to use the the smaller version of Synergee's 3 Tier Dumbbell Rack. For the other items (such as sandbags and wrist/ankle weights), you'll likely want a box or a rack with a tabletop you can put in the corner.
Optional Cardio Machines
While you can do many different exercises with free weights (or your own body weight), sometimes you just want to get on a machine and put in your time. For that, you'll likely want to get a treadmill, elliptical, or stationary bike (or some combination).
Running is a staple exercise for cardio workouts. It's simple, and it's great for burning fat. To get your heart pumping when working out in your half-garage, you'll want to get a treadmill. Any treadmill will do, unless you need some really special features. The only thing that is strictly necessary is the ability to adjust the incline and speed while running for as long as you like. The NordicTrack Commercial 1750 Treadmill is a great option for home and commercial gyms alike. The footprint for this treadmill is 80" x 38" x 65".
Ellipticals allow you to get a good cardio workout while also working your glutes, quads, hamstrings, calves, and more. For this, you may use the Sole E95 Elliptical, which features a built-in cooling fan among other features. Dimensions for this machine are 66" x 23" x 34".
You may also want to include a stationary bike. Riding a stationary bike is safer than a treadmill and it's also lower impact, so you can still get your heart pumping without as much stress on your body. For this machine, it doesn't get much better than the Schwinn IC4 Bike which features a backlit LCD metric console and 100 different resistance settings among other features. Dimensions for this machine are 54.6" x 30.7" x 51.8".
You'll also gain access to their training videos and community as well to help you boost motivation. Dimensions for this bike are 59" x 59" x 22".
For the cardio setup, we recommend putting a treadmill and a bike (or elliptical) next to each other toward the back wall of your garage.
Plyo Boxes and Other Equipment
For the best setup, you'll want to leave approximately 10 square feet of space for free range of movement (and to allow room for body weight exercises). While you can do pushups, situps, and stretches with virtually no equipment, you'll want some other things to enable other workouts.
Plyo boxes are essential for any cardio setup, as they allow you to do several body weight workouts. You can do box jumps, step-ups, planks, dips, squats, and more. You may want to get one or two boxes for your home gym, depending on your workout goals. Synergee offers plain wood, non-slip, and soft plyo boxes in several sizes.
You may also want to invest in some core sliders for lunges, squats, and pushup variations. These sliders go under your feet to allow smooth movement across both hard and padded surfaces.
Other Materials You May Need For Your Half-Garage Home Gym
In addition to your main set of exercise equipment, you may want a few extra supplies on hand to make your workouts easier. Here are a few suggestions to take your half-garage home gym to the next level:
Final Thoughts
Whether you want to create the workout center of your dreams or you just don't want to pay for a gym membership, a home gym is a great thing to have. If you only have one car parked in a two-car garage, why not utilize that space for more than disorganized tools and junk?
The key is to select the best equipment for your fitness goals. Luckily, you don't need to purchase the most expensive stuff on the market to do so. A big price tag doesn't always guarantee quality, and there's no reason to put yourself in the hole when there's high-grade equipment available at an affordable price.
At Synergee, we believe that high-quality exercise equipment should be affordable. Our equipment is designed with real people in mind — everyone from the workout newbie to the champion weightlifter. All of our products are carefully constructed to fit in the home and provide a better workout experience than standard commercial equipment.
Make your ideal workout setup a reality! Browse our
racks
,
bars
, and
storage
options to start building your half garage home gym. You'll find it's easier than ever to reach your fitness goals — and you can do it closer to home than ever.