The 5 Best Value Multi-Grip Barbells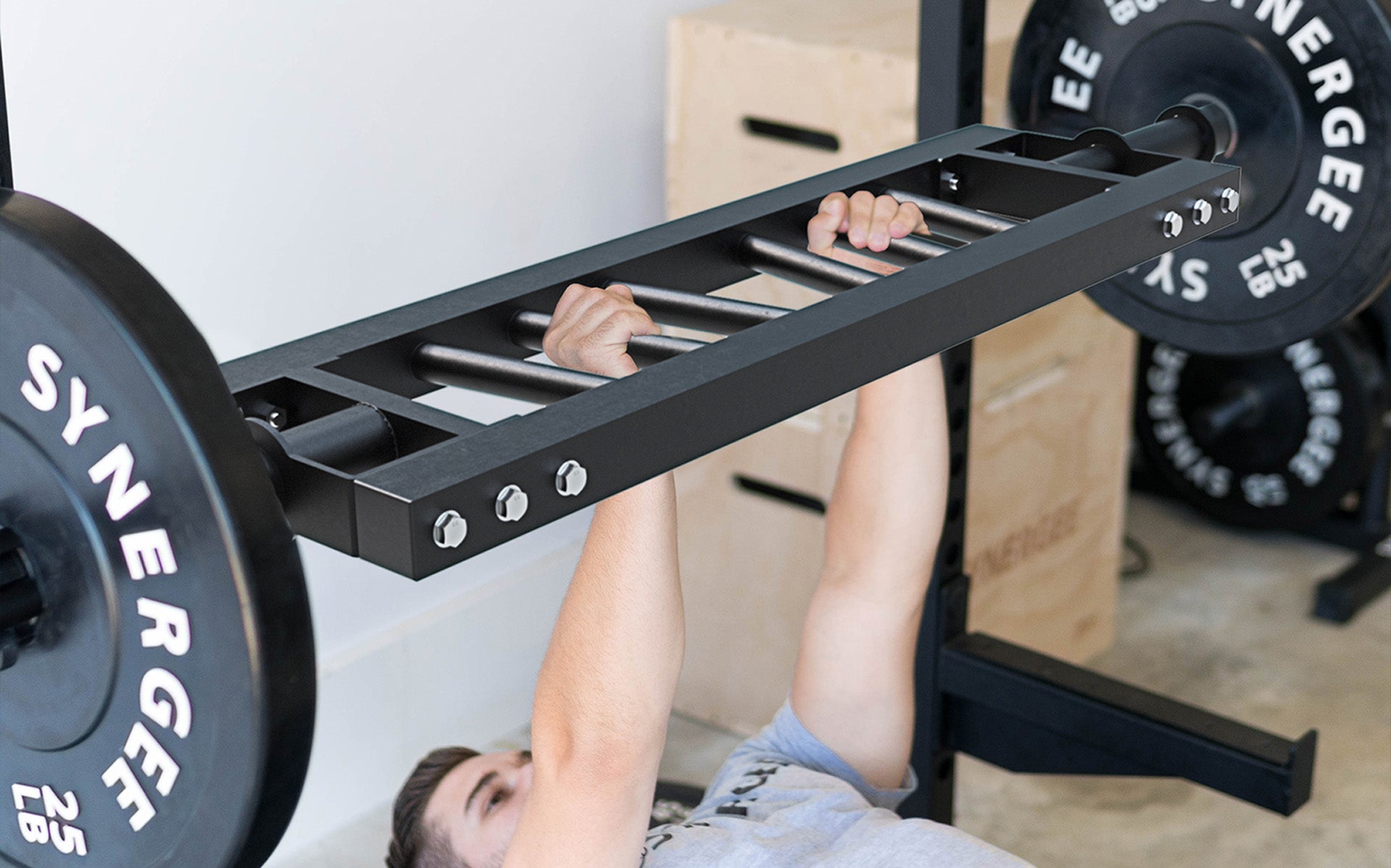 The classic combination of a standard Olympic barbell set, a bench, and a power rack is billed as the ultimate strength training solution for any home gym. This setup requires relatively little space, and you can train your entire body to peak size and strength.
However, the standard barbell has some limitations. The longer you train, the better the chance you might experience joint injuries, performance plateaus, or just plain boredom — even when you're doing everything correctly.
To solve this problem, you may want to expand your exercise options. One of the best ways to do that is by adding a multi-grip barbell to your collection. Few other pieces of gear deliver as much versatility to your home gym.
Let's look at the benefits of a multi-grip barbell and what to look for if you plan to buy one — plus our top five recommendations for the best value multi-grip barbells on the market.
What's a Multi-Grip Barbell?
Also called a Swiss bar or a football bar, the multi-grip barbell is an alternative barbell type that provides most of the benefits of a straight bar with the added benefit of alternate grip options.
Most multi-grip barbells have three or four sets of neutral and/or angled grips, set at various widths. While most multi-grip barbells are straight, some variants are engineered with a cambered (curved) design.
What Are the Benefits of a Multi-Grip Barbell?
The multi-grip barbell provides many of the benefits of a straight bar while also delivering some unique advantages. Here are a few reasons you might use one in your home gym:
Reduce Injuries
Even when used with perfect form, the straight design of a classic barbell limits range of motion and can put unique stress on the shoulders, elbows, and wrists — especially during upper body exercises. Over years of training, this stress can result in injuries.
The neutral and angled handles of the multi-grip barbell can help reduce injuries by allowing for a more natural range of motion.
Break through Plateaus
Performance plateaus are a common challenge faced by intermediate and advanced lifters. One way to bust through plateaus is to shock the muscles with new exercises.
Multi-grip barbells are great for this because they can provide alternative versions of primary lifts. It may be just the change you need to unlock new progress.
Minimize Boredom
Even the most committed lifters can get bored with their training program. A great way to reduce boredom is to add alternative exercises that still help you reach your goals over time. The multi-grip barbell adds possibilities of new exercises and angles to reduce your boredom while still supporting progression on your main lifts.
Efficient Home Gym Expansion
Home gym purchases should be versatile to best maximize space and minimize cost. Multi-grip bars provide many benefits for relatively little cost in space and resources, enabling alternative presses, rows, curls, extensions, and more. Plus, the bar can be fixed in place for use as a platform for pullups, pushups, and dips.
Work with a Dumbbell Alternative
Dumbbells are great because they allow for natural range of motion, which helps reduce injuries. But a variety of dumbbell sets can take up a lot of space.
Multi-grip barbells provide many of the benefits of dumbbells without the space and cost requirements of a complete dumbbell rack. You can quickly load and unload a multi-grip barbell with new weight plates or use those you already own. You can also place the bar in your power rack, a storage solution that can't be done with dumbbells.
Multi-Grip Barbell Buying Guide
If you think a multi-grip barbell may be right for you, here are some critical factors to consider before making a purchase:
Construction Quality
The great thing about home gym equipment is that, if you choose wisely, the gear can last the rest of your life. So make sure you check the quality of the gear before you buy. Even paying a few extra dollars might be worth it when considering the potential lifespan of the product.
A standard barbell is a fairly simple piece of technology — a solid bar of steel. However, complex multi-grip barbells require several welds during production. So make sure you buy from a company that values high-quality craftsmanship.
Finally, you need to consider what material the bar is coated with. This can affect both grip and longevity. Chrome and stainless steel look good but can be slippery and degrade after being sprayed with alcohol. Paint is cheap, but it chips away easily. Matte black powder coating provides good protection and excellent grip even when the bar becomes wet.
Bar Max Load
Are you a casual lifter, or are you prepping for your local strongman competition? Depending on your goals, the max load of the bar might limit your training.
You can't squat or deadlift with a multi-grip barbell, and all the bars listed below are rated to handle at least 400 pounds. This might be an issue for all you 400-pound bench pressers. However, for the vast majority of lifters, 400 pounds is more than enough.
Bar Weight
Generally, a lighter bar is more versatile than a heavy bar simply because you can always add more weight. You can't take any more weight off when the bar is empty.
A lighter bar can be used for more exercises and can help accommodate the varying strength levels of whoever might use your home gym. It can also be useful for injury rehabilitation. But if you're the only one who trains in your home gym, get the bar that's best for your individual needs.
Loadable Sleeve Length
Loadable sleeve length refers to how much of the sleeve (the ends of the bar) can safely be loaded with plates. As you consider how the bar will fit into your training plan, you can get an idea of how much loadable sleeve length you're going to need.
As with max load, this only matters to a select group of heavy lifters. Running out of room on the bar is not a problem most of us have (especially for a supplemental bar).
Handle Layout
Handle layout is one of the key areas in which various multi-grip bars differ. Some bars have all neutral handles (handles positioned perpendicular to the bar), some have angled handles, and some have a mix of both types.
The angle and spacing of the grips determine range of motion and how your body will be affected by lifting the bar. Figure out which hand positions will be most useful (and least painful) for you, then choose accordingly.
Handle Grips
Most barbell equipment is coated in either chrome or matte black powder, with the latter generally providing better grip. Grip is also affected by knurling, which is the criss-cross pattern etched into the steel.
If you only plan to use the bar for pressing, grip is less important. But if you plan to use the bar for pulling, make sure it has the right type of grip to match your routine.
Equipment Compatibility
One of the key benefits of adding a multi-grip bar to your home gym is that it can add versatility by integrating with the gear you already own. If you need to buy specialty collars or plates to accommodate the bar, this defeats the entire purpose.
You will also need to consider if the bar will safely and easily fit on your power rack. Buying a bar to help your bench press is pretty useless if you don't have anywhere to rack it. Every bar should merge easily well with your existing setup.
Warranty
Beyond the physical factors of the bar itself, you should consider the policies of the company you're buying from. This isn't like ordering a pair of socks from Amazon; home gym equipment is a long-term investment. Replacements and refunds can take significant time and energy to facilitate.
Make sure you figure out exactly what the barbell's warranty covers and how long the coverage lasts. A handful of products out there have lifetime warranties, but most are covered for at least one to three years — definitely long enough to know if you have a defective bar.
Return Policy
In the rare case that something goes wrong — or if the bar just isn't right for you — you will have to consider the cost and hassle of shipping the bar back to the company for a return or replacement.
It's important to know all the details in case you have to do this: Who will shoulder the cost of the return? What is the exact return policy and what period of time do they allow before returns are unavailable? Again, moving steel barbells isn't easy or cheap. Consider your options carefully before you commit to buying.
Environmental Impact
Finally, you can consider the environmental impact of the production and shipment of the bar. As we said, it takes a lot of energy to move a barbell. Is the company doing anything to offset those environmental costs? Be sure to check out those details if that's important to you.
Best Multi-Grip Barbells: Our Top 5 Picks
We searched the market for the best multi-grip bars available and found five similar products to review. As there are numerous varieties available, this list includes bars that fit three specific criteria:
Angled Handles: We focused on products with all angled handles. While neutral handles are good, angled handles provide a superior range of motion benefits by allowing for more natural movement.
Straight Design: We stuck with straight bars rather than a cambered or curved design. While the cambered design can provide a slightly greater range of motion, it also presents a more complicated engineering challenge. This is why fewer companies adopt this design.
Power Rack-able: We only compared bars that fit in a standard power rack. If the bar is too wide or narrow, it severely limits the value of the product. With that said, be sure to double-check that the bar you're buying will fit in your rack.
Based on these criteria, here are our top picks:

1. Synergee Multi-Grip Swiss Bar - Best Value Option
At Synergee, we truly believe our Multi-Grip Swiss Bar is the best option on the market. With this option, you get a premium product at a budget price — and a No-Sweat return policy. If you want to get the best multi-grip barbell for your money, this is the bar for you.
We're a family-owned fitness equipment manufacturer and distributor based in Canada, and we're dedicated to making high-quality gear at a reasonable price.
Customers agree that the design of this bar is nearly identical to the version sold by Rogue, at half the price. It features four angled handles set into a rectangular cage — plus, standard collars fit this bar.
Another factor that sets this bar apart is the 450-pound max load on a 27-pound bar, the direct result of high-quality manufacturing.
When you buy from Synergee, you're buying directly from the manufacturer with no middleman. This means you can communicate before you buy, ask specific questions, and get the answers you need.
We offer a carbon-neutral shipping policy, where we offset carbon emission costs for everything we sell.
Specifications
Max Load:

450 lbs

Bar Weight:

27 lbs

Length:

 78.5"

Loadable Sleeve Length:

 14"

Collar Type:

Standard 2"

Handle Positions:

 3 (2.5", 5", 20.5")

Coating:

Black powder

Warranty:

3 years

Return Policy:

 20% restocking fee. Free return shipping

Price:

$149.95

2. Rogue MG-24 Multi-Grip Bar - Best Premium Option
Next on our list is the Rogue MG-24 Multi-Grip Bar, which most lifters would consider the industry standard (with a price point to match). Rogue products are high quality and made in the USA, but they often cost almost twice as much as the competition. If money is no object, then this might be the bar for you.
The MG-24 has four handle positions set in a rectangular cage, and it's coated with matte black powder. While the bar is compatible with standard plates, the abnormal sleeve size means you will need Rogue's specialty collars to hold the plates in place.
Rogue products are sold directly from the manufacturer, so you always have a clear and direct line of communication with the people you're buying from. There's no need to deal with a middleman retailer.
Rogue also has a solid warranty and return policy, though the warranty on this specific bar is not totally clear on their website. They take returned products with no questions asked, but you will need to pay for return shipping.
Specifications
Max Load:

Unavailable

Bar Weight:

44 lbs

Length:

82"

Loadable Sleeve Length:

14"

Collar Type:

1.91" (Requires specialty collar)

Handle Positions:

4 (6", 14", 22", 30")

Coating:

Black powder

Warranty:

3 years

Return Policy:

Customer pays shipping return cost

Price:

$305.00

3. Titan Angled Multi-Grip Bar - Best Budget Option
The Angled Multi-Grip Bar by Titan is a solution for the more budget-minded consumer, at a price point only slightly less than the Synergee bar. If you're looking to save every penny you can, you might give this bar a try.
The bar design is nearly identical to the Rogue and Synergee versions. But it is a little heavier and, for some reason, is rated to handle nearly 2,000 pounds. If you can move the bar with that much weight, you will likely break a world record somewhere.
Titan has a solid online presence where you can get product information and contact customer service directly for support. Titan also offers free shipping, but customers must pay the shipping cost for returns.
Specifications
Max Load:

1918 lbs

Bar Weight:

48 lbs

Length:

82.25"

Loadable Sleeve Length:

14"

Collar Type:

Standard 2"

Handle Positions:

4

Coating:

Black powder

Warranty:

1 year

Return Policy:

Customer pays shipping return cost

Price:

$149.99
4. Xtreme Monkey Black Steel Swiss Bar (Angled) - Best Lightweight Option
The Xtreme Monkey Black Steel Swiss Bar features only three hand positions, rather than four. The benefit is that this bar is the lightest on our list, but can still handle up to 400 pounds. If you need a smaller, lighter bar, this one might work for you.
One of the drawbacks of buying Xtreme Monkey products is that you can't buy direct. Their gear is sold through middlemen like Amazon or Gronk Fitness. Assuming everything goes correctly, you might be able to get a good product for a good price. But if anything goes wrong, you may have a hard time getting in contact with anyone to solve it.
This is also a factor when looking for answers to specific questions, such as confirming the width of the bar or the diameter of the collars. With Xtreme Monkey having little official web presence, we are left to rely on product descriptions from retail platforms (which may or may not be accurate). How much do you want to gamble on the accuracy of an Amazon listing? If you do (and it all works out), you can get a solid bar at a great price. But it's always a gamble.
Specifications
Max Load:

400 lbs

Bar Weight:

22 lbs

Length:

83"

Loadable Sleeve Length:

13"

Collar Type:

Standard 2"

Handle Positions:

3

Coating:

Stainless steel

Warranty:

1 year

Return Policy:

Customer pays shipping return cost

Price:

$149.99

5. TDS Magnum Angled 4 Grip Bar - Last Pick
The TDS Magnum Angled 4 Grip Bar is similar in design to the other four-handle versions on this list. However, despite the higher price point, this bar doesn't offer many benefits, making it the least attractive choice on this list.
While knurled handles may improve its effectiveness for pulling exercises, it is coated in metallic paint, which can chip off easily during normal use.
The TDS company profile is similar to Xtreme Monkey — they have almost no web presence, products are sold through retailers, and there is no way to get answers to specific questions about the gear.
The price for this bar is higher than the Titan version, but with no real justification for the extra cost. It's shipped in three pieces and must be assembled by the user upon arrival. This is an unusual design for a barbell compared to the welded versions described above.
Specifications
Max Load:

400 lbs

Bar Weight:

35 lbs

Length:

84"

Loadable Sleeve Length:

15"

Collar Type:

Standard 2"

Handle Positions:

4

Coating:

Stainless steel

Warranty:

1 year

Return Policy:

Customer pays shipping return cost

Price:

$199.95
Final Word
Now that you understand how multi-grip barbells can improve your workouts and what to look for, you can shop for one with confidence.
When putting together a home gym, the versatility of a standard Olympic barbell is unmatched. It is without a doubt the most important piece of equipment in any weightlifting setup. But the multi-grip barbell is a close second, as it vastly expands your upper-body training options while reducing the risk of injury and boredom.
If you're looking to buy the best multi-grip barbell on the market, it doesn't get better than Synergee's Multi-Grip Swiss Bar. Get the best equipment for your home gym without breaking the bank. Check out our standard, powerlifting, and specialty barbells (and accessories) as well to meet all of your fitness goals.